BACS Blog
Posted on 21 Nov 2011
'Technologically Inspiring' Rice Hall is Dedicated, UVa Today, 19 November 2011.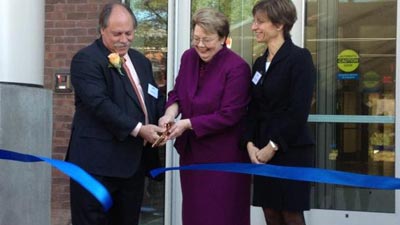 To Innovate, 'Make Sure the Experts Think You're Nuts,' Kamen Tells Engineers, UVa Today, 19 November 2011.
Kamen told his audience of mostly engineering students and professors that one way to make innovation happen is to "make sure the experts in the field think you're nuts." He said new ideas should go from "indefensible to indispensible," and that innovative thinking will lead to many failures but also to new ways to solve society's most challenging problems, such as clean water and power shortages for two-thirds of the world's population.

As a boy, he said, he was inspired by the "David and Goliath" story, in which little David defeated the giant Goliath with technology – a slingshot. He encouraged the future engineers to think beyond their own fields. "Become interested in people from different fields, different backgrounds and see what you can do that's new. You have this little spot of time between eternities to do something amazing – don't waste it."
Rice Hall Dedication, NBC 29, 18 November 2011.

Posted on 19 Nov 2011
Rice Hall, the new home of Computer Science at UVa, was dedicated yesterday, Friday 18 November, with a large celebration.
Celebrity inventor speaks at dedication of UVa's new science building, Daily Progress, 19 November 2011.
Posted on 14 Nov 2011

Rachel Miller graduated a BACS degree with Highest Distinction in 2009 (ambitious visitors can read her DMP thesis on Drunken Algorithms). She is now a graduate student at MIT working on theory of cryptography.
Do you have any advice for current computer science students?
Find a mentor… Fortunately, there's an easier way to find a mentor — asking a professor to be one for you. I recommend showing up to office hours of the professors you are fans of and asking them directly. [Read More]
Posted on 8 Nov 2011
The dedication of Rice Hall will be Friday, 18 November,
with festivities starting at 11am, followed by tours and poster sessions, a talk at 3pm by Dean Kamen, and a scavenger hunt at 5pm.
Dean Kamen is an illustrious inventor (including of the Segway and numerous medical devices) and the founder of the FIRST robotics competition.
All BACS students, alumni, and friends are invited to the dedication.
More information: Rice Hall Information Technology Engineering Building Dedication from School of Engineering and Applied Science News.
Posted on 27 Oct 2011
Several new courses have been added to the list of pre-approved Integration Electives:
BIOL 3120: Microbiology in the Genomics Era (thanks to Miruna Dumitriu!)
DRAM 4110: Lighting Design (thanks to Kelly Croswell!)
HIUS 3162: Digitizing America (thanks to Louis McCracken!)
MATH 3100: Introduction to Probability
MATH 3120: Introduction to Mathematical Statistics
MATH 4452: Algebraic Coding Theory
Remember that the list of pre-approved integration electives is meant as a starting point, but is not meant to be exhaustive. If you find a course that seems to satisfy the goals of the integration electives, you may be able to make a case that it should count as an integration elective even if it is not on this list.
Posted on 14 Oct 2011

Ethan Fast graduated with BACS major in 2011, and now is a graduate student at Stanford and co-founder of Proxino.
Do you have any advice for current computer science students?

You have more options than you might think. Most students seem to default into taking a job straight out of undergrad. But for a certain sort of person, going to grad school or starting a startup offer reasonable alternatives. Along these lines, if you are interested in grad school then you ought to try doing research under a professor. This will help you decide if grad school the right choice for you, and it will also help in the application process… [Read More]
Posted on 6 Oct 2011
Your time is limited, so don't waste it living someone else's life. Don't be trapped by dogma – which is living with the results of other people's thinking. Don't let the noise of other's opinions drown out your own inner voice. And most important, have the courage to follow your heart and intuition. They somehow already know what you truly want to become. Everything else is secondary.
Steve Jobs, 1955-2011
Steve Jobs was a true visionary behind the personal computing revolution, and his inventions, design, and vision will continue to shape the world for generations to come.