---
Our new semester is coming
Read entire page — It will be enlightening — For our joint future
---
We are UVA!
Our University is built on the richness of our differences and recognizes that everyone is created equal and entitled to equal rights, dignity, and respect. We must all repudiate those who violate these principles through hate and violence.
Everyone has a responsibility to do their part to maintain a safe community on Grounds. If you or someone you know has been affected by power-based personal violence, reporting options and resources available at the Office for Equal Opportunity and Rights.
Course personnel are deeply committed to our university principles, and seek to make our class welcoming and safe to all.
---
Course format
Our course is using the Online Synchronous format. I will be presenting material live on MWF @ 2:00 PM. You are most strongly encouraged to attend our class during this session. Of course, if circumstances prevent that, know class sessions will be recorded and made available shortly after a session completes.
Attending the session will give you a chance to ask questions immediately. However, there will be plenty of office hours and also the Piazza forum for doing so. It is my intention to continue my habit of donating 25¢ to a local food bank for each question coming during a class session. Last semester I donated more than $2,100 dollars to local food banks.
While the course is called Introduction to Programming. It is a really an introduction to problem solving using digital technologies to provide solutions. I think a better name for the course is Chrestomathics, the art and science of problem solving for practical use.
Therefore, during class sessions I will be intermixing lecture and laboratory. I will frequently ask you to try stuff out. Doing so is very important, regardless whether you are part of the Zoom session or watching its recording. Passive learning is neither efficient learning nor effective learning. If you are asked to upload your work to the class website, do so regardless if you are watching the video later the same day or even the next day.
As the course proceeds, I will also offer office hours in the morning.
---
Course goals
Provide a great introduction to programming.
Put a hunger in you to want to learn more about computing.
Instill within you, computational thinking abilities and digital problem solving skills. I believe this twosome should help you better accomplish your life goals, whatever they may be.
---
To do list
Taking the pledge is mandatory for our class to have a community of trust.
It's simple to do — write a haiku about your class expectations. Needs to be done the day before our first class, so that I can use them during our first class discussion.
It will explain a lot about the course.
Create a folder for CS 1112. Over the course of the semester you will have more than 100 artifacts.
Grab and install the course software today.
Please carefully follow its directions to ensure its correct installation.
If you have preferred gender pronouns, please let us know.
While you are it — you ought to be in pictures, please upload a photo of yourself suitable for sharing with the class.
Mine is visible at the bottom of this page. We will use the photo in conjunction with some of the software artifacts we will create this semester.
---
Consider doing list
Watching the movie What about Bob?. CS 1112 pedagogical strategy is based on the movie.
Want to improve your life overall and your studenthood in particular?
Watch Randy Pausch and learn. Randy gave this talk in full knowledge he had only a few months to live. The video is about 80-minutes long. The entire video is incredibly worthwhile. Watching it will be a great investment in your education. At a minimum watch 15 minutes starting at time index 13.30.
Ever think you are an impostor? Wonder whether UVA should have accepted you?
Well we think UVA made the right decision and watch this video to be sure. The video is about 20-minutes long. Watching it will be another great investment in your education, should help your test performance, and improve your job interviewing prowess.
---
Welcome
I believe our new semester will see us transitioning from one nightmare of the last year. We will still need to remain diligent — to care for others and ourselves, to practice social distancing, and to wear masks when with others.
Your physical absences depresses me. However, I look forward to meeting you online. I do intend some point to meet you in the physical world.
My expectations for CS 1112 Spring 2021 remain the same as that of all my previous incarnations of CS 1112 — provide the best possible introduction to computer science.
I want to instill within you computational thinking abilities and digital problem solving skills. I believe this twosome should help you better accomplish your life goals, whatever they may be.
To succeed, its going to require all of us to ramp up our own self-discipline. There is no classroom to enter, where we necessarily put aside the external trappings and happenings of the day to join in a collective learning experience. So, we all need to make a workspace the best we can, where we can concentrate on learning.
You are going need to make a conscious effort to participate in every class where you and I focus ourselves on discovering the art and science of programming.
Set aside regular time to work on CS 1112. During that time, uni-task and eliminate distractions as enjoyable as they may be. Being regular in time and space, will strengthen your ability to succeed.
I have never had a student in my class whose parents donated a building to ensure their child's admission to the University. And I expect that remains so (if I am wrong here, please encourage them to name the building Joanne McGrath Cohoon Hall).
So what that tells me is that you have the demonstrated ability to succeed wonderfully. You have an incredibe academic record. There is no reason why that should not be true for CS 1112 also.
Therefore, I ask you to commit yourself to actively and regularly to make CS 1112 your cynosure. By doing so, I expect you to not just be successful but to excel. If things get tough, all course personnel are there to help the best they can.
Some of your courses this semester are likely to be asynchronous — students are not expected to meet as one. Our course will be sychnronous — every Monday, Wednesday, and Friday all semester long at 2 PM Eastern time we will have a new class meeting. I do so, because I want to approximate the best I can, a coming together.
Some of you are living in very different time zones. I ask if you can, to attend our online meetings. Of course, all course meetings will be recorded for times where other matters take precedence.
As soon as possible, after each class meeting please examine the day's artifacts. Understanding them should make homework exercises straightforward. I will never ask you to do something that comes out of nowhere.
CS 1112 will have many small homework exercises to undertake. Computational thinking is foreign to many of us. To develop this skill, I believe it needs frequent practice, just like learning to play a musical instrument or learning to draw or other creative outlets.
To paraphrase the 17th century poet, John Donne, none of us is an island. By nature we are social beings. To avoid disconnectivity, engage with me in class and in office hours. Similarly, take advantage of teaching assistant office hours and with Piazza. Also, reach out to classmates and form study groups and collaborators.
If things get personally tough, reach out to me, a friend, or anyone who will listen to you. You do not need to be alone. Know that University has resources to help you.
---
Read me
Course pedagogy and practices result from National Science Foundation (NSF) grant 0739254. That support is appreciated.
Wear something orange to the first class for extra credit.
---
MLK Day 2021 — Monument Avenue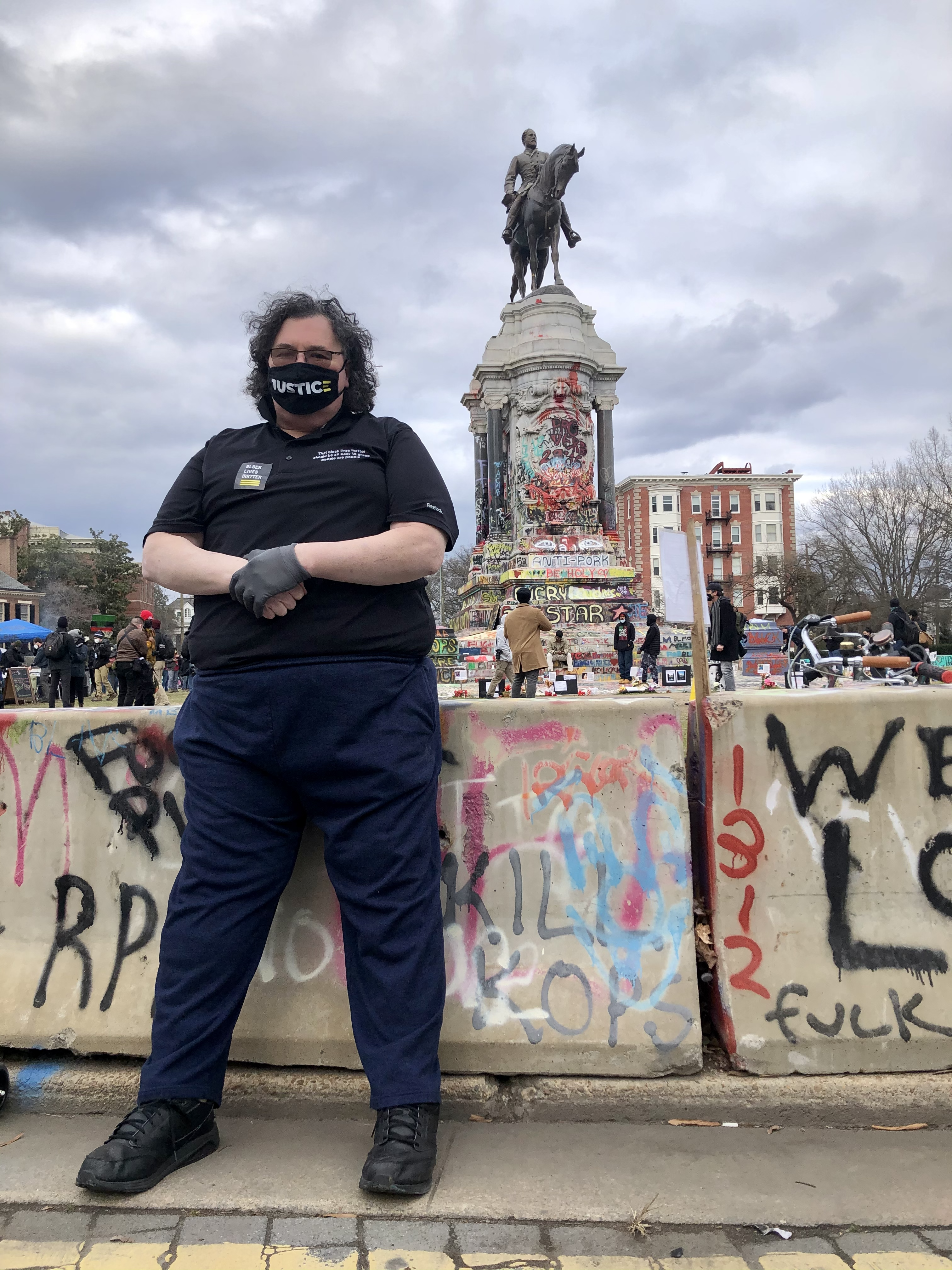 Summer road trip — Black Lives Matter Plaza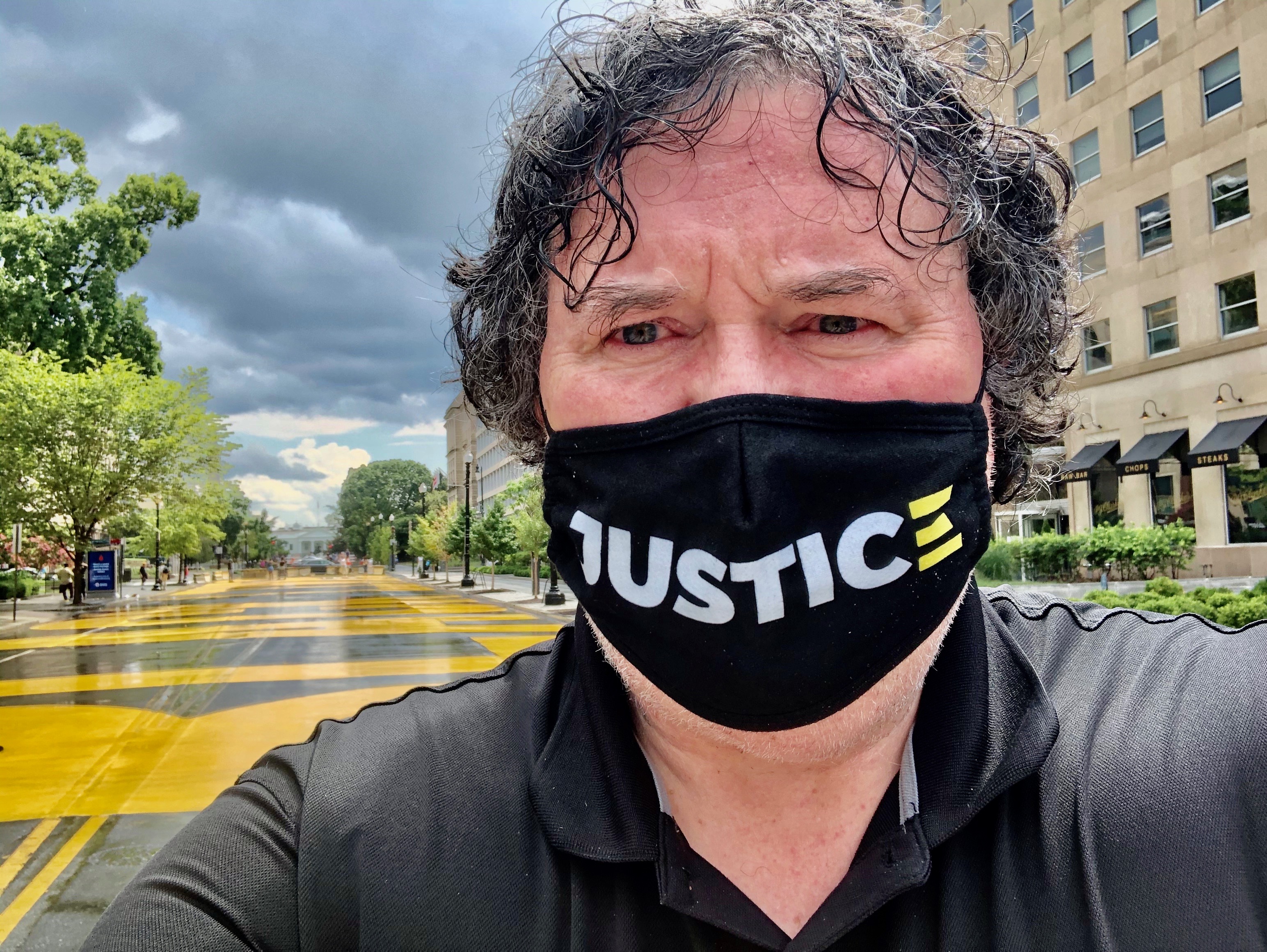 ---
| | |
| --- | --- |
| © 2021 Jim Cohoon | Resources from previous semesters are available. |