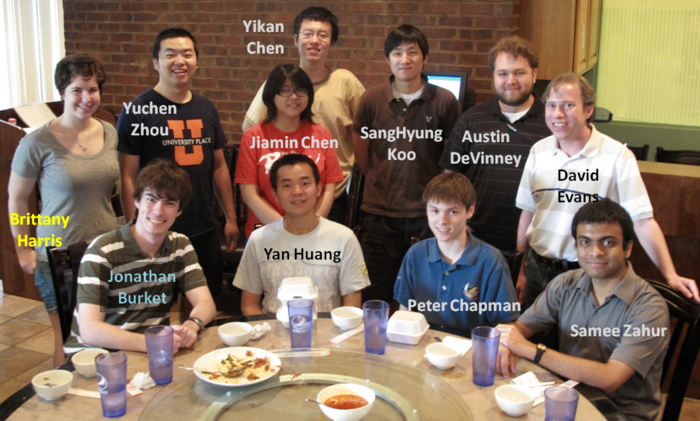 Research Group Lunch (11 May 2011)
PhD Students
Undergraduate Researchers
Prospective Students
I am always happy to exchange email with UVa students looking for research projects. My primary research area is computer security which includes software security, applications of cryptography, system security and network security. I will also supervise outstanding students interested in other areas.
If you are a current UVa undergraduate student, visit our research group blog to learn about what is going on in our group, and send me an email to arrange a meeting. All students are also welcome (and encouraged) to attend our Security Research meetings (sign up for the mailing list). I generally prefer to find first or second year students so you have sufficient time to do something interesting before you graduate, but I have also been known to accept exceptional third or fourth year students.
If you are a current UVa graduate student looking for a research advisor, look at my research websites and some of our papers. If the kind of work we do seems interesting to you, contact me to arrange a meeting, preferably to discuss some of your own original research ideas.
If you are interested in coming to UVa to do a graduate degree, please feel free to contact me (but it would be a good idea to read my advice for prospective students first).
UVa Students and Alumni at USENIX Security 2011
Graduated PhD Students
Karsten Nohl, Computer Engineering PhD Spring 2009
Nathanael Paul
— Computer Science PhD 2008
Jinlin Yang
— Computer Science PhD 2007
Graduated Masters Students
Jeffrey Shirley
— UVa MCS 2011
Benjamin Cox
— UVA MCS 2006
Ana Nora Sovarel
— UVA MCS 2006
Lingxuan Hu
— 2004
Selvin George
— UVA MCS 2003
Greg Yukl
— UVA MCS 2003
David Larochelle
— UVA MCS 2002
Joel Winstead
— UVA MS 2002
Weilin Zhong
— UVA MCS 2002
Andrew Twyman
— MIT MEng '99 (co-supervised with John Guttag)
Undergraduate Research Alumni
Completed PhDs
Currently in PhD Programs
Other Alumni
John Franchak (Cognitive Science Distinguished Major Thesis, second reader), March 2005.
Ben Maskell — Preventing Software Piracy, May 2004.