About Me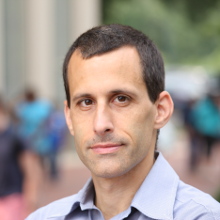 I'm a professor in the Computer Science department at the University of Virginia (joined August, 2004). My research interests include computer science education and computer graphics, the latter focusing on virtual reality and haptics. I completed my undergraduate degree at Stony Brook University and completed my Ph.D. in 2003 at the University of Pennsylvania studying under Norman Badler.
In the fall of 2022 I am teaching two CS 2150: Program and Data Representation (

) and CS 4501: Cryptocurrency (

).
You can also find me online at github; I don't really do social media anymore. I serve on a number of committees, most notably as the chair of the Academic Affairs Committee of the UVa Faculty Senate.
Contact