---
Robins Receives Grant of $500K from Packard Foundation
University Journal
Vol. XVIII, No. 30
October 13, 1995
By Elizabeth Bluemink

For the first time in U.Va. history, a faculty member has received a $500,000 fellowship from the David and Lucile Packard Foundation, the United States' largest non-governmental program of unrestricted grants to young university faculty in engineering and science.
Computer Science Assistant Professor Gabriel Robins received a congratulatory letter last week from the Packard Foundation, which will aid Robins' research by providing $100,000 per year for five years.
The Packard Foundation awards 20 fellowships every year, selecting out of the 100 nominations the foundation receives from state universities.
The 1995 fellows were nominated by their university presidents and recommended to an 11-member review panel by a committee of renowned engineers and scientists.
Robins said he attributes a lot of the accomplishments in research at U.Va. "to the good support I've received from the department. They put a lot of investment in young faculty and are very forward-thinking."
He added that he has received "a lot of very good advice from senior faculty" and he sees his work as "more of a team effort."
Robins said he hopes to use the funds to hire a few post-doctoral candidates and students to aid him in his research, which is the design and performance of large-scale integrated circuits.
He will reap other benefits as well: buying new equipment and traveling to conferences more frequently.
Packard Foundation Chairman and cofounder of the Hewlett-Packard Company David Packard said in a press release, "Many of the most important technological contributions of this century have come from university faculty members who began their research early in their careers and have worked in their areas of interest over a long period of time."
Robins said, "Instead of having to scrounge around, looking for funds, we can focus on research and spend more time actually solving problems."
"Funds are kind of drying up nowadays," he added.
Robins was also the 1994 recipient of the National Science Foundation's Young Investigator Award, also worth $500,000.
---
Original scanned article: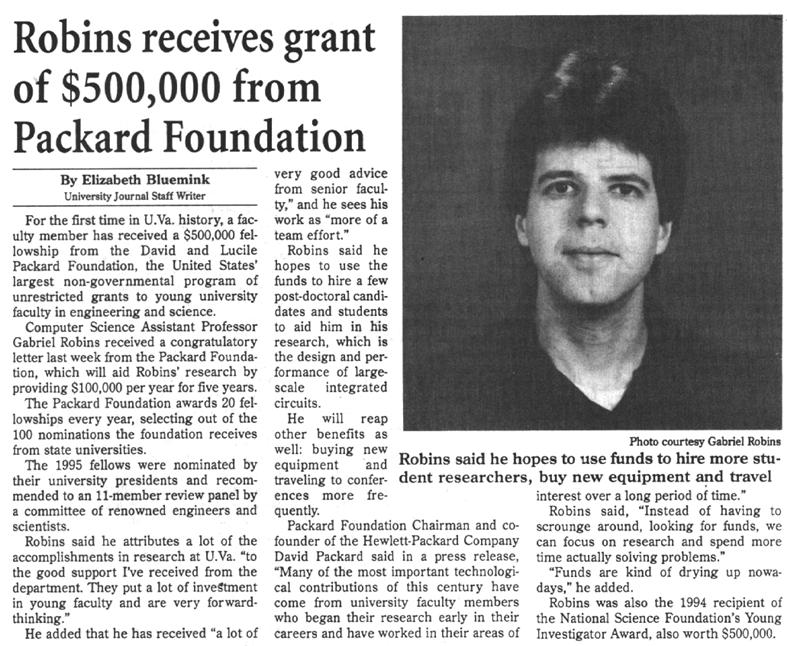 ---
Return to Gabriel Robins' home page