Pentium 4 stream benchmarks
From: H.W. Stockman (stockman3@earthlink.net)
Date: Thu Jan 25 2001 - 18:30:23 CST

Next message: Pierre Lagier: "Results on Fujitsu VPP5000"
---
Double-precision stream_c

avg, MB/s, of 10 runs:
copy 1322.85
scale 1320.12
add 1514.75
triad 1508.11

System: 1.4 GHz Pentium4 with 1 GB PC800 RDRAM, in Intel i850 board
(homemade system). All 64 RDRAM devices taken, so this is not an ideal
system r.e. latency.

Hard disk is 5400 rpm 30 GB Maxtor.

Executable: exact same as for Asus K7V Athlon 800, which I submitted June 4,
2000.
Compiled with Intel C/C++ 4.5, essentially Pentium Pro optimizations (no
SIMD, no Pentium 4-specific optimizations).

Ran 10 times in sequence (from batch file), and averaged all 10 for results
reported above.

Attached: Excel summary of results; text output from batch file; gif plot
showing MB/s vs run number.

Somehow I forgot to mention the OS: Windows 98 SE.

---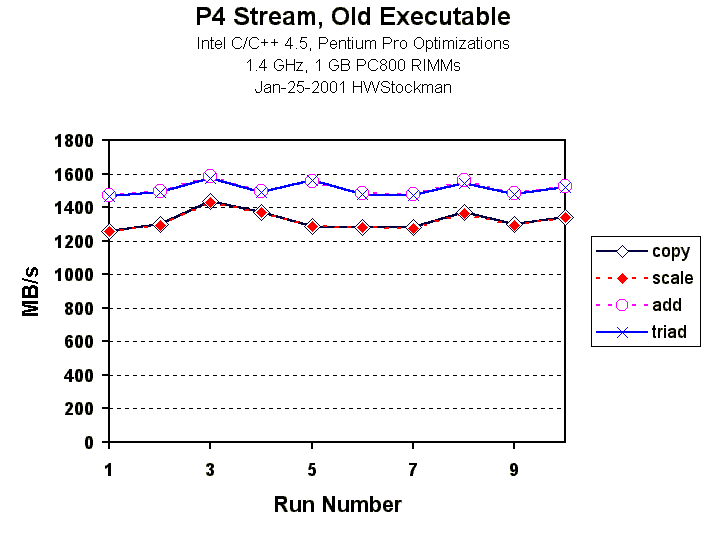 ---
---
---
---
This archive was generated by hypermail 2b29 : Sun Jan 28 2001 - 18:38:32 CST