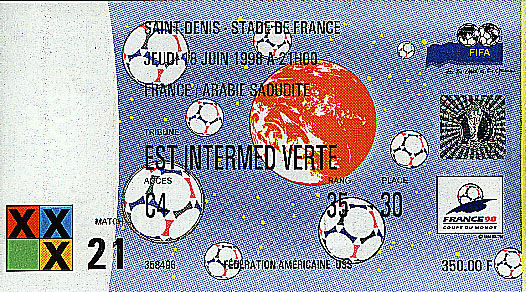 Suprisingly, getting to see the host team was not all that difficult. Unlike the US/Germany game, there we only a few people looking for tickets outside the stadium. In general, the French public was not solidly behind the team. There were a couple theories about why this was the case - partly France is not a leading football country. Except for a few cities like Lens and Marsaille, Rugby is usually more popular. More important, the French had suffered numerous let downs, most recently failing to qualify for USA '94 by losing at home in the Parc des Princes to Bulgaria, giving up the losing goal in injury time. It took a while for the French public to get behind the team, but from the scenes of Paris after their victory, they came around in a major way by the end of the tournament.
This game was my first trip to the magnificent Stade de France. It was built specially for the World Cup at great expense. The Stade is an impressive building, but lacks the atmosphere of some of the older stadia (although the saucer roof does a good job of keeping the noise reverberating inside the stadium).
France showed moments of brilliance and some dreadful finishing, but the game itself was mainly dramatic because Zinedine Zidane got a red card for needlessly stomping on a Saudi player. I thought this would be the end of his World Cup - and it nearly was if Paraguay could have held on for a few more minutes and won the penalties in the eigth final. Zidane came back with renewed purpose, and scored two goals in the final.