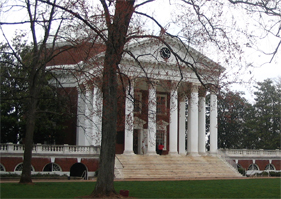 Course Announcements / Events
Summer 2009 course:
Tue., August 4
- News:
Info on Exam 2 is here.
Office Hours on Weds.: 1-3pm.
Extension! At the review session, we decided that HW5 wouldn't be counted late if it was submitted by 8pm on Friday.
PHP "Lab" is here: http://www.cs.virginia.edu/~horton/cs453/phplab/

Exam 1 on Monday -- see notes page for slides and info.
All HWs now posted.
HW3 is due Monday, July 27.
Look at HW4 (bigger project!) and HW5 (individual, choose your own topic).
Course Staff
Instructor:
Tom Horton
Office: 228B Olsson
Phone: 434-982-2217
Email:
horton(AT)cs.virginia.edu
Teaching Assistant:
None for Summer 09