Graduated PhD Students
Samee Zahur, Computer Science PhD Spring 2016
Thesis: Demystifying secure computation: familiar abstractions for efficient protocols
First and current employment: Google (Mountain View)

Yuchen Zhou, Computer Engineering PhD Spring 2015
Winner of ECE Rader Graduate Research Award, 2014
First and current employment:
Palo Alto Networks
Thesis: Implementable Privacy for RFID Systems, January 2009
Winner of ECE Rader Graduate Research Award, 2008
Current PhD Students
Xiao Zhang
, PhD Student — adversarial machine learning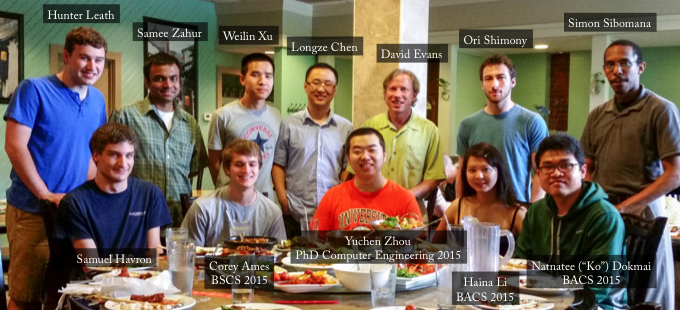 Research Group Lunch (6 May 2015)
Undergraduate Researchers
Nathaiel Grevatt — secure computation and the GDPR
Aditi Narvekar (since Spring 2017) — adversarial machine learning
Felix Park (since Summer 2017) — adversarial machine learning
Amar Singh (since Fall 2017) — proof-of-stake vulnerabilities
Prospective Students
I am always happy to exchange email with UVa students looking for research projects. My primary research area is computer security which includes software security, applications of cryptography, system security and network security. I will also supervise outstanding students interested in other areas.

If you are a current UVa undergraduate student, visit our research group blog to learn about what is going on in our group, and send me an email to arrange a meeting. All students are also welcome (and encouraged) to attend our Security Research meetings (sign up for the mailing list). I generally prefer to find first or second year students so you have sufficient time to do something interesting before you graduate, but I have also been known to accept exceptional third or fourth year students.

If you are a current UVa graduate student looking for a research advisor, look at my research websites and some of our papers. If the kind of work we do seems interesting to you, contact me to arrange a meeting, preferably to discuss some of your own original research ideas.

If you are interested in coming to UVa to do a graduate degree, please feel free to contact me (but it would be a good idea to read my advice for prospective students first).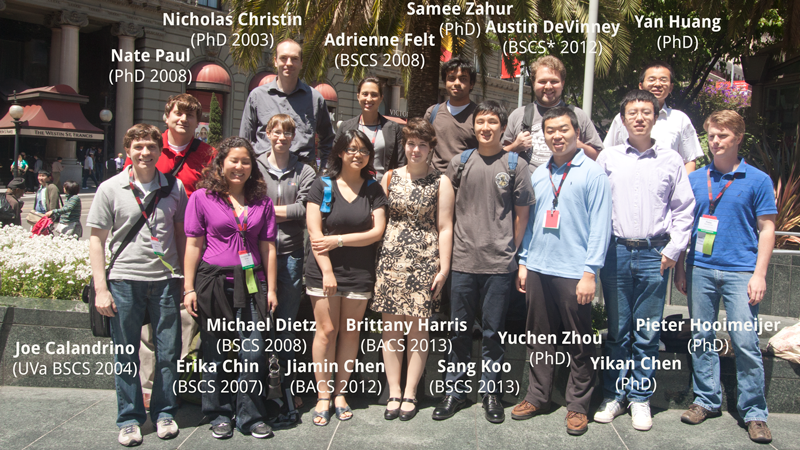 UVa Students and Alumni at USENIX Security 2011
Graduated Masters Students
Longze Chen — UVa MCS 2015, now at Center for Open Science
Simon Sibomana — UVa MCS 2015
Ivan Alagenchev — UVa MCS 2014
Tianhao Tong
Undergraduate Research Alumni
Completed PhDs
John Calandrino
(2002) — Microsoft
University of North Carolina (PhD 2009) (worked with James Anderson on real-time scheduling for multicore platforms)
William (GJ) Halfond
(2002) — Associate Professor of Computer Science, University of Southern California.
Georgia Tech (PhD 2010) (worked on web application security with Alessandro Orso).
Jonathan McCune
(2001-2003) — Google
CRA Outstanding Undergraduate Honorable Mentionee in 2003
CMU PhD 2009 (advised by Adrian Perrig and Mike Reiter)
Research Scientist, Carnegie Mellon University
Matt Spear
(2005-2006) — Google
UC Davis (PhD 2010, worked with Karl Levitt and Felix Wu on peer-to-peer security)
Currently in PhD Programs
Ethan Robertson (2016-2017) — University of Virginia
Jack Doerner
(UVA BSCS 2015; Wizard of Oblivion, 2015-2016) — Northeastern University
Hannah Li
(UVA BACS 2015) — University of Virginia
Hao Bai
(2014-2016; BSCS 2016) — Harvard University